Informations
Roleplay is currently
Open
Site is currently
Open
Accepting high ranks?
No
Accepting other ranks?
Yes
»»»»»»»«««««««
Now is Dawn
And a Strong wind is to west
Page 2 of 2 •

1, 2

First topic message reminder :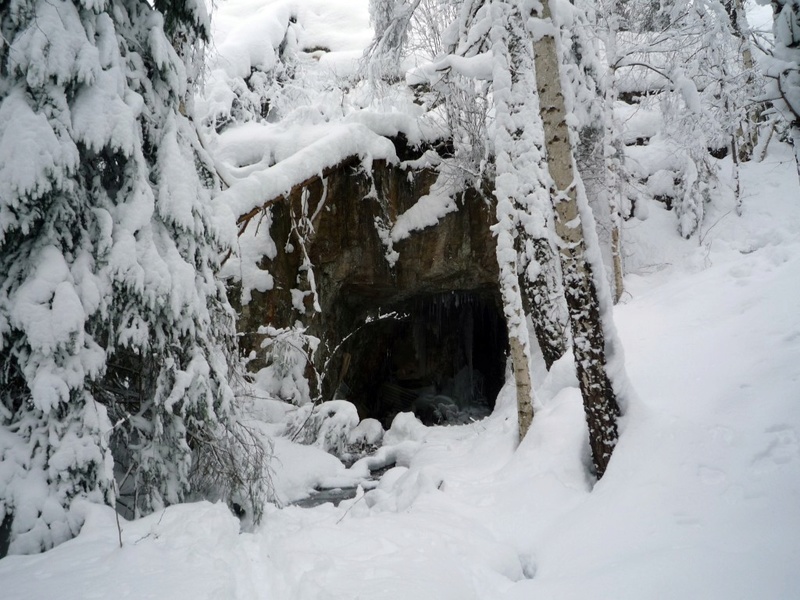 Here is the main territory of the Sakura Tribe and it's the place where members spend most of their time.
Preys:
Hares
Predators:
Eagles, owls
---
Zusa
Zusa watched as Peter's nervousness slipped off in the presence of the den and the rest of the pack. Jackaal responded now, introducing himself and inviting the pup in warmly, which seemed to make him unsure. His grey gaze flitted back and forth between Jackaal and herself and with a gentle shove from Zusa, he followed the leader into the den. Zusa was close behind, missing the extra warmth without her own little ball of fur, and settled down on Peter's other side, giving him some room to move. She set the rabbit near him in case he got hungry.
The she-wolf felt a small stab of jealousy as Jackaal was Peter's chosen source of warmth and resisted the urge to pout, knowing the little wolf had no bad intentions. "Are you feeling hungry, yet?" She asked, voice light and small against the quiet den.
Rain feels Jackaal approach him and ask to go to a fast patrol. First the large gray male observes around. Zusa had just come from the hunting with a cream-colored pup that seemed to meet as Peter. This pup entered in the den with Jackaal and curled in his coat. Rain could see that the pup was feeling at home. He looks at both for a while before he go and thinks "One more to take care of... and more, it's a pup." The big male is dealing in his mind the young with contempt. He don't likes pups, because they were difficult, need food, training and a special care. He knew this moment would come soon, Jackaal would want his own, but Rain was not prepared. "How long will he stay?" he asks without much animation in his rough and brute voice.
Jackaal smiles with the pup's animation. Then he was surprised when Peter warms in his body and smiled again. Suddenly Rain asks "How long will he stay?" Jackaal looks at him and answers "How long it takes Peter will be here... It is not safe a pup walking alone out there."
He was so busy fidgeting on his back, trying to bury himself as deep into Jackaal's warm fur as possible, that Peter didn't notice Zusa come in until he heard her voice. He was currently splayed out on his back, so when he looked towards the direction that Zusa's voice was coming from he couldn't hold back a small giggle at her upside-down form. He looked between the wolf and the rabbit a couple times before pulling away from Jackaal and trotting towards the female, dragging the rabbit along with him.

"We can share, like I said earlier!" the pup explained with bright eyes turned upwards to look at her. He wasn't paying attention to the conversation between Rain and Jackaal, but instead leaned closer to Zusa as if he was going to tell a secret and whispered, "but we have to save some for them, too." His expression was deadly serious, as if it may be too much to ask of Zusa. Peter gave her one last stern look before breaking out into a grin and starting to gnaw on the tasty rabbit.
Zusa
Zusa set her golden gaze onto Peter as he rolled around happily, clearly enjoying himself despite his situation. He seemed to finally notice and let out a giggle upon doing so, then glanced between her and the rabbit before dragging it toward the she-wolf. Zusa smiled a rare, warm smile toward the small wolf as he affirmed his earlier statement, then leaned in very seriously to show care for the others. She nearly giggled at his display but nodded seriously toward Peter, now grinning away again.
"Here, let me help." Zusa gentle tugged the rabbit toward her then put a paw firmly on part of it. After pulling strongly on the loose half until the rabbit was in two parts, she nudged the other half toward him. "Here, how's that?" Not waiting for his response to eat, she took began to take small bites of hers. Her morning hunt and the walk to and from had caused her some hunger, and though it wasn't a large meal nor especially filling, it did it's job.
Peter was pleased when Zusa seemed to agree with him that they needed to share, and felt his smile grow even larger than before. He stayed silent as she offered her help, tearing the rabbit into pieces that would be much more manageable for the pup. When she asked how it was and started to eat Peter rolled to the side a bit so his fur was pressed up against hers again, humming as a form of response. He had already begun to admire the she-wolf, what with her kindness and demonstrated smarts, and Peter couldn't help but be a bit smug that she seemed to favor his company as well. At least that's what he told himself as he ate the rabbit heartily, feeling sleepier by the second.
Page 2 of 2 •

1, 2


Similar topics
---
Permissions in this forum:
You
cannot
reply to topics in this forum