Informations
Roleplay is currently
Open
Site is currently
Open
Accepting high ranks?
No
Accepting other ranks?
Yes
»»»»»»»«««««««
Now is Dawn
And a Strong wind is to west
Page 1 of 2 • 1, 2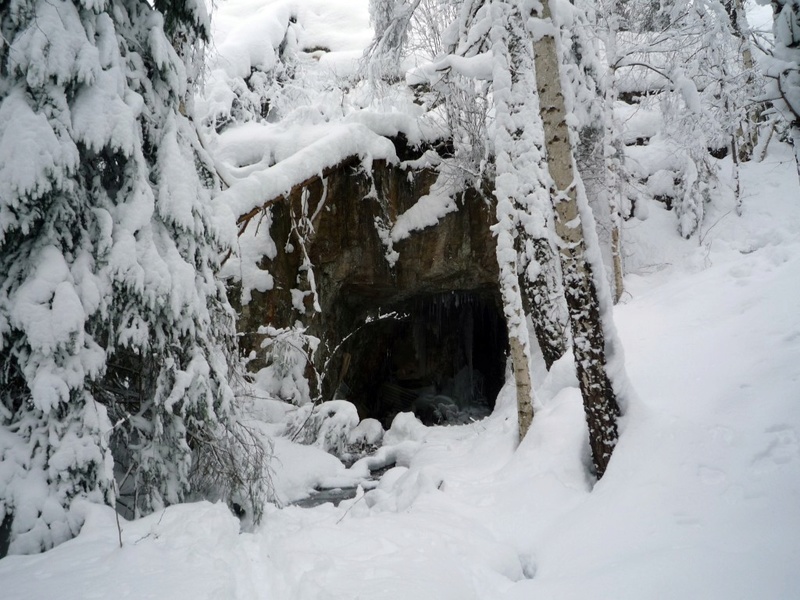 Here is the main territory of the Sakura Tribe and it's the place where members spend most of their time.
Preys:
Hares
Predators:
Eagles, owls
Rain opens his right eye and soon after his left until his vision is no longer overshadows. He stretches and goes out the den where he feels the wind breeze.
Jackaal wake up to the sound of feet in the den. When he raises his head notes that Rain was already awake and Zusa seemed to not be there at the time. Jack stands up and walks to Rain "Good morning" he says as caress him. After, Jack lifts his nose feeling a smell "Wolves." he says in a low tone. He only goes a little more out of the den and sat there.
Mentioned:
@zusa
@rain
Addressed:
@rain
Zusa
The walk through the forest as a quiet and cold one. Peter stuck as close as he could while in constant motion, and surprisingly, didn't speak much, but it was hard to rectify the situation with a rabbit in her mouth. It didn't take long before a dark shape came into view, partially covered by snow but still visible, and Zusa walked a little faster toward the den. Both Rain and Jackaal were awake by now, and she gave a small nod to each of them, setting the rabbit down so she could speak.
"H-hey guys, I uh found something in the woods." Though she didn't expect them to show much hostility, she still watched them carefully, paws shifting nervously in front of her. "His name is Peter, he's lost and I thought he could stay here tonight...I brought food too." A rabbit wouldn't fill them all up, but she was sure she had at least one or two more stored by the den.
Peter remains quiet throughout their journey, maybe grunting once or twice when he stumbles over his own feet or knocks into Zusa by accident. The walk seems to go by relatively fast for the small pup and before he knows it Zusa is picking up her pace. He has to jog and bound a bit to keep up with her, but he didn't mind in the slightest, especially once he caught view of what seemed to be a den.

Peter looked at the two males that Zusa was talking to, and gave a big and bright smile. He didn't know why but the sight of them together near the den tickled something in the back of his mind, but the pup quickly ignored it and decided to talk to his new pals. "Hi!" he started, following Zusa's words, "Zusa is my friend, and so we can be friends too?" The tanish pup blinked up at the two males with large, cloudy eyes, hoping silently that they would accept his offer as he once again velcroed himself to Zusa's side. The more friends the more warmth, Peter was quickly learning, and the thought made his tail wag enthusiastically.
Jackaal was a bit confused at that moment. He didn't know if he was feeling the smell of stranger wolves or familiar wolves. That was until he looks to the side and sees Zusa coming with a rabbit. "H-hey guys, I uh found something in the woods. His name is Peter, he's lost and I thought he could stay here tonight...I brought food too." the female wolf said and Jack excited walks up there and sees a pup that seemed to be happy too "Oh, hi little one!" he says wagging his tail "I'm Jackaal.. hmm, and you should be Peter, right?" before he could continue he looks at the den and the rabbit, then returns his gaze to Peter "So.. you seems to be hungry and cold, come to the den, please" he smiles.
Mentioned:
@zusa
@peter
Addressed:
@peter
Peter watches silently as one of the males steps up and introduces himself as Jackaal. When the black and white wolf asks if his name is Peter he chirps out a short "yep!" and wags his tail along with Jackaal's, happy that so far everyone he's met seems very nice. However, when he is asked to go to their den, Peter looks a bit reluctant to leave Zusa's side. Not only was her fur warm against his own, but he felt more comfortable with his traveling buddy for a reason he did not understand. It takes a few moments of looking back and forth between Jackaal and Zusa for Peter to finally pull away, ready to follow Jackaal into the den. If him and Zusa where friends then he could be trusted, Peter reasoned. Not to mention, warmth and food sounded pretty darn good right now. "Okay..." the pup spoke eventually, a little shy but still happy as ever.
After the pup enters the den Jackaal is more relaxed and then he looks at his mate next them and nudges him "Rain, take a quick patrol in the territory, please. I'm having printing new smells in the air..." he says. Soon returns to the young one "Peter,... Are you comfortable?..." he asks with a smile and lies down next to the little one.
Peter sniffs about the den a bit after entering, scouting out the different corners out of curiosity. He glanced outside, attempting to catch Zusa's eye before deciding to settle down on his stomach. Only a few moments were spent in the shelter and he was already feeling better. The comfort brought a small smile to his maw until a large yawn interrupted the expression.

His ears perked at Jackaal's question and Peter immediately nodded, tail thumping noisily on the ground. "Yeah, thanks Jackaal! You're nice!" Peter declared, watching as the older male laid down beside him. The pup propelled himself on the ground a bit, rolling a few times until his smaller body bumped into Jackaal's and then immediately curling into the near-stranger's fur. Peter hummed in content at the warmth and decided that he really wanted to be these wolves' friend for a long time.
Page 1 of 2 • 1, 2



Similar topics
---
Permissions in this forum:
You
cannot
reply to topics in this forum